**ATTENTION PATIENTS**
Dear Patient:



We hope this letter finds you and your family in good health. Our community has been through a lot over the last few months, and all of us are looking forward to resuming our normal habits and routines. While many things have changed, one thing has remained the same: our commitment to your safety.



Infection control has always been a top priority for our practice and you may have seen this during your visits to our office. Our infection control processes are made so that when you receive care, it's both safe and comfortable. We want to tell you about the infection control procedures we follow in our practice to keep patients and staff safe.



Our office follows infection control recommendations made by the American Dental Association (ADA), the U.S. Centers for Disease Control and Prevention (CDC) and the Occupational Safety and Health Administration (OSHA). We follow the activities of these agencies so that we are up-to-date on any new rulings or guidance that may be issued. We do this to make sure that our infection control procedures are current and adhere to each agencies' recommendations.



You may see some changes when it is time for your next appointment. We made these changes to help protect our patients and staff. For example:
• Our office will communicate with you beforehand to ask some screening questions. You'll be asked those same questions again when you are in the office.
• We have hand sanitizer that we will ask you to use when you enter the office. You will also find some in the reception area and other places in the office for you to use as needed.
• You may see that our waiting room will no longer offer magazines, children's toys and so forth, since those items are difficult to clean and disinfect. • We will be scheduling appointments in a manner that promotes social distancing and allows for adequate time for us to disinfect all areas of use in between patient appointments.
Clear plastic screens (sneeze guards) have been installed at the front desk to minimize exposure to airborne pathogens.  Medical-grade high efficiency particulate arrestance (HEPA) air purifiers have been installed in the office to help improve the air quality in the area for all patients, family members, and staff. 
Our doctors and staff will be wearing all of the recommended personal protective equipment (PPE).  We will be using high evacuation filtering as well as UV light to disinfect.



Upon arrival at our office, call us before entering the office to let us know you have arrived. We will call or text you once the office is ready for you to enter. We ask that patients enter the office unaccompanied, if possible. For those patients who need a guardian to accompany them, we ask that this be limited to a single family member.



Every person entering the office is expected to wear a face covering.



Please take your temperature the morning of your appointment. We will confirm no fever with a contactless thermometer upon your arrival.



We look forward to seeing you again and are happy to answer any questions you may have about the steps we are taking to keep you, and every patient, safe in our practice. To make an appointment, please call our office at (815) 725-1605.



Thank you for being our patient. We value your trust and loyalty and look forward to welcoming back our patients, neighbors and friends.



Sincerely,
Dr. Jim and Dr. Dave
Malinowski & Sefcik, D.D.S. - Joliet, IL
At Malinowski & Sefcik, D.D.S., we value our patient relationships, making it our priority to deliver gentle, compassionate care that you deserve from your dentist. We work hard to make you feel at ease by providing exceptional patient care in a relaxed, convenient atmosphere. We strive to develop lifelong relationships with our patients by combining the latest dental technology with a professional and compassionate staff. The result is a beautiful, healthy smile that lasts a lifetime.
The doctors are sensitive to the value of your time and are dedicated to following an accurate and organized schedule. We pride ourselves on being prompt and seeing people as scheduled so you don't need to worry about waiting.
We also believe that patients should have sufficient information to make educated decisions about their oral health, treatment options and choice of dentist. You'll find all of this important information on our website, including directions to our Joliet office, service descriptions, patient forms, patient education resources and more.
Not only are we a leading dentist in Joliet, we are a full-service practice providing for all of your dental needs. Our services include:
Should you ever need additional information about our practice, we are always available to answer your questions. Let us care for your entire family! We look forward to meeting you.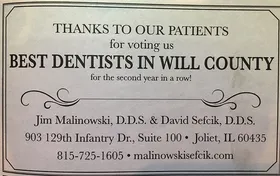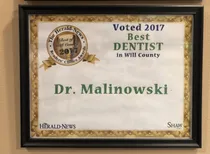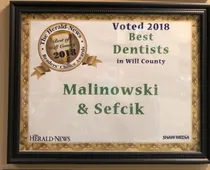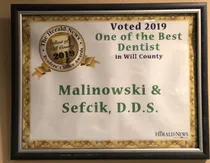 ---